Soundtrack Producer

Version 1.01 Now Available!
You can now cut, copy and paste WAV files on the timeline and the error handling has been vastly improved. If you have already downloaded version 1.00 then click here for info on downloading the update. Click here to see what users had to say about Soundtrack Producer 1.00

Overview
Soundtrack Producer was my final year university project. You are welcome to download it and use it for free if you like. Should you find the one and only bug that I put in on purpose then please send me an email so that I can fix it.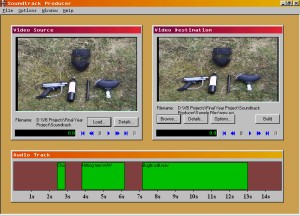 Feature Summary

Source video preview window
Audio timeline
Playback of audio files
Audio In/Out point functionality
Cutting and pasting of audio files
Destination video window for playback of the finished file
Selection of output video format from any of the installed CODECS
Technical Info
The source code is a mish mash of C++ and Visual Basic. If you want to take a look then let me know.

Platforms
I have successfully installed Soundtrack Producer under Windows 95, Windows 98 and Windows NT 4.0.

Download
Click here for all the installation files (1.96MB)
If you are sure that you have the Visual Basic 5 runtime dll (MSVBVM50.DLL) installed on your system already then click here for a faster download (1.18MB)